Belli Capelli

Hair Store and Factory
The Belli Capelli is a company that specializes in processing and selling all-natural hair, providing the best value for money for the market. The exceptional quality of work, using only natural materials development and further modernizing of our hair extension technologies – here is what has made our hair products widely popular not only in Russia, but in many different countries.
In order to offer our customers beautiful, shiny and well-prepared hair extensions of different lengths and colors, we need to be quite hard at work. Hair processing and wiggery production are mainly performed by hands, so that our specialists are required to have a decent amount of experience and pay a great attention to their work.
The Belli Capelli hair is proceeded in multiple steps, some of which are performed fully by hand. Combined with the professional equipment we use, it allows us to produce unique products of the highest quality.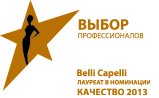 Selected hair is to be dyed first. By applying the most contemporary technologies, we can save all the natural characteristics of hair, not damaging a cuticle. During the final step of hair extension preparation, we do not use silicon [and its derivatives].
While hair extensions production being our foremost focus area, we also produce a range of equipment, tools and instruments for hair extensions and other accessories.
We are also glad to offer other businesses favorable terms of partnership and help in arranging an effective performance in your region.
We are looking forward to new advantageous relations!
As a part of our marketing strategy committed to high brand awareness in Russia and abroad, we take an active part in a wide range of wellness trade shows in the beauty industry in Moscow and regional capitals. The Belli Capelli always presents bright and stylish mounts with non-stop master-classes and demonstrations, professional models taking part. As a part of such master-classes, we perform hair extensions using the most up-to-date techniques. Our reputable masters of hair extension demonstrate their masterpieces, including both classic and designer hairstyles self-described as real pieces of art, to a wide range of visitors. If attending any Moscow or regional expos or trade shows in the beauty industry, you can always have a look and buy any product of the Belli Capelli product range, from different hair extensions of a vast color spectrum and different textures to various hair extension equipment, tools and accessories.